"Do you know your real family?"
At every family Christmas gathering, one of Karla's cousins would ask her, "Where is your real family? Are they going to send you presents?"
"This question came from my cousins," Karla said. "These were the people who were supposed to be my family. Wasn't I adopted so I would be part of their family?"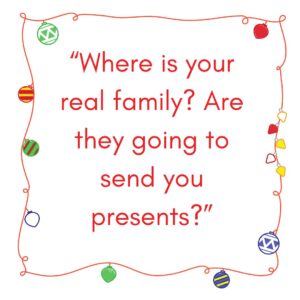 Karla shakes her head incredulously and grins.
"These family members continued to suggest I wasn't their family. I'd forget about being adopted, and then they would remind me by asking where my real parents were."
The 20-year-old grins.
"I realize now my cousins saw me as unique and loved the mystery of my biological parents."
During a day of Christmas music, grandma's au gratin potatoes, and gifts–an event designed to promote family unity–Karla was reminded about the family she didn't have.
"I didn't take it personally," Karla said. "I wanted to tell them that they were my real family. But even I could see that they looked like their parents. I don't look like my parents at all."
"Where is your real family?" –
a question most adopted children will hear over and over again. How they learn to respond to this question is critical for their self-perception.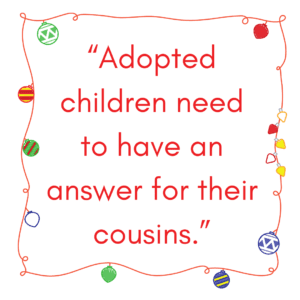 With the support of her adoptive parents, Karla has a relationship with her birth family. Knowing them has given her a better sense of self.
Adopted children don't want to know their biological parents because they don't want to go to a family Christmas party. They need to have an answer for their cousins.
These children want to know the following—
Why did my birth parents need to place me?
What are my parents doing now?
Do my parents ever think of me?
Do I have siblings? Do they know about me?
Where do I get this talent?
At Heart to Heart Adoptions, we encourage the relationship between birth and adoptive families.
Please, let us know if you need more information.