The phone was not on speaker. Still, we could hear the angry caller. She was screaming, outraged with the world.
Bonnie's voice remained calm and loving. This is the Bonnie we knew as a Clinical Director at Herat to Heart for many years. She has an incredible gift of patience, especially with an individual who is struggling. She genuinely loves people and sees the best in them.
Her husband, Brett, is the eternal optimist. Happy, loving, and kind in every situation.
This is why they have been able to deal with the hardships and stress of picking up refugees from the Polish/Ukraine border and help them move further into Europe.  This service is invaluable for groups of people who may be struggling with the language or may not know where to go next.  Being met by Brett and Bonnie's love and support, along with their interpreter, Lena, is so important to those fleeing the devastation and terror of their homes.
You can help
Immediate needs include:
Rent for a nine-passenger van- $65 -$280/day.
Gas for each border run- $110
Hotel stay with breakfast – $65/room/night/family
Hats- Every trip, someone takes Brett's hat.
Luggage- Refugees often carry all they have in plastic sacks.
Food and other personal needs.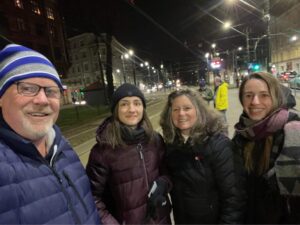 This is a way to assure your donation is used directly for the Ukrainian people right where they need it the most.  And because we are a 501c3 not-for-profit organization, you will receive a tax credit for your donation. You could send these donations directly to Bonnie and Brett, but they are not presently registered as a non-profit (It's a long process.)  Since we are a not-for-profit, we can send you a receipt for your taxes.
We will send a Donation receipt to you, then send the donation directly to Bonnie and Brett for their incredible work.  To see more of what they are doing, watch Brett's posts on Facebook.