Protecting their five-year-old son from disappointment and heartbreak was a priority for Tyler and Allison. One thing they didn't realize is how the little five-year-old playing nearby with their Dachshund dog understood about their two-year adoption journey.
They didn't recognize how intensely little Lincoln wanted to be an older brother.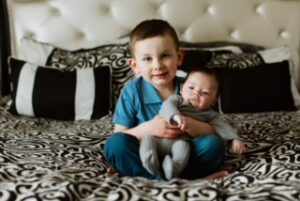 He heard the parents talk about being matched with a birth mother. The couple was working with a few different agencies beyond Heart to Heart. Their preschooler grasped the concept of a baby and then recognized the baby was not going to come. The little guy cried.
Allison had a support group and learned how common failed adoptions could be. Lincoln had no support group.
When Allison told him there was another baby and he would be a big brother, he was a little suspicious. He'd heard similar words.
"Are you sure?" was his attitude.
It didn't take much assurance for him to start stuffing his suitcase with toys for his new brother.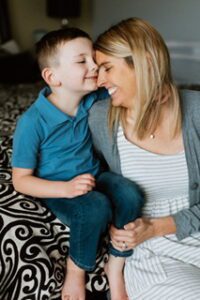 "I don't care if he cries," Lincoln consistently told his parents. "I will take care of him."
The older brother has taken care of the infant. If the little guy starts to wake up, Lincoln is the first to run for a pacifier, explain to his mother that the baby needs a new diaper, or make faces, so the infant is entertained.
This is the kind of bonding that will last a lifetime.
See Mom's story. Click here.
See Dad's story. Click here.