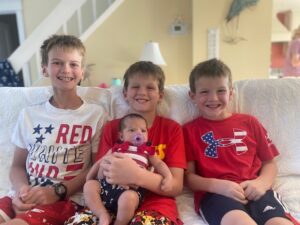 Spring break for the three boys, ages 11, 9, and 6, was going to include National Parks in Southern Utah. This was a trip the family had planned long before they were matched with a birth mother.
"This may seem like a small thing to some," Monica said, "but this was a wonderful miracle. We were already planning to fly into Salt Lake City before we knew anything about our match."
The baby wasn't due, but because the family was in Utah, they took the opportunity to go to the Heart to Heart Adoptions office.
"We took pictures of the boys in front of the building. Then when we had to leave the boys home while we went to get our precious little girl, we could tell them where we were. I felt like that was God's way of involving the kids when they couldn't come with us. They would say, 'Are you going in the pink door?' or "Are you going to go eat at that Chick-fil-A?' They understood where we were."
"The boys love her with a fierce love that we have not seen," Monica said.
"They are so protective. They are so helpful. They are very territorial about who gets to hold her, who gets to choose her clothing."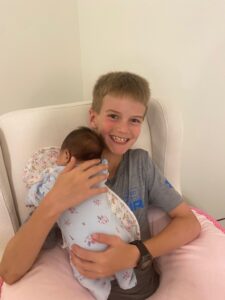 Monica's Bible study group gave a shower for the baby. The new mother wanted them to all know that this was an experience she felt God had been leading them to for years, even when she was a child.
"My mother says I always wanted to be a 'baby nurse,' and I wanted to adopt. What a blessing that I now have been granted the blessing of being a nurse and adopting. I don't know how we deserved this. What did we do? I make mistakes, and I yell and have a dirty house. Still, we were so incredibly blessed."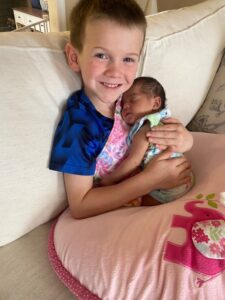 Through the online app HeartsConnect, the families send updates. They have learned about the other's extended family through these updates. They have a history of the boys' love for their little sister. A story that will extend for a lifetime.
Read about the family's first conversation with their baby's birth mother.