"A global pandemic is the best time to start the adoption process, right?"
After getting married several years ago, Libby and Cory wanted to start a family.
Ultimately they decided that adoption was the right path for them to make this happen.
So in November 2020, at the height of the COVID-19 pandemic, they jumped head first into expanding their family through the process of adoption.
A year into the process, after getting their home study together, Libby and Cory put a lot of themselves into their family profile book. Cory, an artist and adjunct professor, and Libby, a museum educator, and ice skating coach, made sure their profile was a candid representation of their distinct and fun lifestyle. They wanted potential birth mothers to see a loving, caring, often silly, but always thoughtful couple that would be the perfect fit for their child.
Most importantly, they wanted to present their authentic selves to a birth mother that would always be in their lives through an open adoption.
The couple started the process with a DC-area agency. They used resources from that agency for several classes but then decided to expand their reach and go with an adoption agency out of their immediate area. That is how they found Heart to Heart Adoptions.
After being listed with Heart to Heart and another out-of-area agency, it was a long wait of almost a year.  However, this past July, Libby and Cory were sent an email from Heart to Heart asking if they'd like their profile shown to a birth mother in Florida.
"We did want our profile to be shown to this mother."  Libby said, "It was important that whoever chose us to raise their child to feel comfortable with us, and we hoped our profile would represent us well." Within 12 hours of having their profile shown to the Florida birth mother, Cory and Libby were on a phone call with her.
"We didn't know what we were doing or the expectations," Cory said. "We had a great, quick conversation that highlighted a lot of the heart and soul we put into our profile book. But the second we hung up, we thought about everything we should have said."
"A day later, she wanted a follow-up phone call, and we thought, great! We could talk about all the stuff we didn't talk about during the first phone call," Libby said.
"But there were no follow-up questions, " Cory said of the second phone call. "Just a decision. She wanted us to parent her baby."
What followed was a mix of shock, delight, terror, and joy. The couple used the month before the infant's due date to gather basic essentials and supplies and take parenting classes.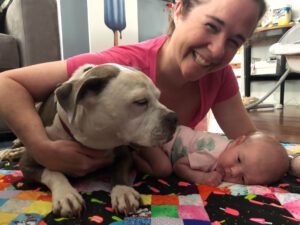 During that time, there was a week when no one could contact the birth mother. It was a stressful moment, to say the least.
"Eventually, we found out her phone was broken," Cory said. "Heart to Heart worked with her to get a new phone, and things were back on track."
"We decided to go down two days before her due date so she could get to know us and be sure of her decision," Libby said. "Thanks to Heart to Heart, we got to have dinner with her a couple of times.  Since she passed her due date, we had the opportunity to get to know her even better."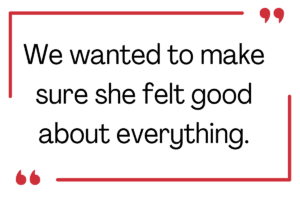 "She admitted to having second thoughts about adoption," Cory said. "Until she met us. Then she felt she was making the right decision. We wanted to make sure she felt good about everything."
Cory admitted he is a "bit of a crier," and this little girl's birthday was an emotional day.
When the placement papers were signed, Libby shared that there was more crying from everyone.
The relationship between the family has continued. While waiting for ICPC (legal permission from the courts to take the baby across state lines), the parents met together in Florida. Now back in the DC area, Libby and Cory exchange messages and photos with the birth mother on HeartsConnect. This online computer app supports open adoption by helping the family stay connected with the birth mother in real-time.
"Our profile book and actually meeting the birth mother before our daughter's birth date really established a connection between us," Libby noted, "but being able to support our daughter's adoption story through an open and continued connection with the birth mother is helping shore up and maintain our relationship, for what we hope will be years to come."