Twenty hours to pick up a baby. Twenty hours driving home with an empty car seat.
The carefully installed car seat constantly reminded them they had been lied to. The birth mother had given birth almost three weeks earlier and had no intention of placing her child for adoption.
"That was her decision," Laura said, "and we support that. What we don't support is her not saying anything about her decision to keep the baby. Instead, she allowed the couple to drive across the country.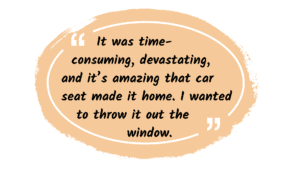 "It was time-consuming, devastating, and it's amazing that car seat made it home. I wanted to throw it out the window."
A few weeks later, Laura was with her dog on the way camping.
Little did they know that a birth mother in a neighboring state was in the process of looking at family profiles. After scrolling through 65 couples looking to adopt, the birth mother stopped on theirs. "That's who I want to adopt my baby," she said and never wavered from that commitment.
"The experience was so different from the first experience,"
Laura said about the second match. "She wanted to communicate. Wanted an open adoption. We asked her questions. (through an online app called HeartsConnect). We talked about naming the baby. What kind of school? What do you find important? We asked them about holidays and traditions. All of this pre-conversation before walking into a hospital. We didn't feel like we were walking in and talking to strangers."
"I was driving north to the Land of 10,000 Lakes to see my family and got a call two hours into my drive," Laura explained Heart to Heart was informing her that the birth mother they had been communicating with was going into labor two weeks early.
"When something like this happens, you waffle between being wary, protective of your emotions, and extremely excited," Laura said about turning her. "It was a smart decision."
The couple drove through the night and suddenly had a baby.
The new father needed to finish his annual reviews as a software engineer.
"He wrote them in the hospital and gave them online from the hotel," Laura said. The father was then given paternity leave.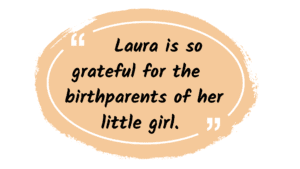 Laura is so grateful for the birthparents of her little girl. "We got lucky. Our baby's birth parents fully understand their decision and its implications. They have been excited to build a relationship with us."
When asked about advice for those considering placemen or considering adoption, Laura recognized her answers might sound cliché. Things such as "staying positive," "don't give up," or "it's all worth it."
The new mother also had some very insightful comments about the failed adoption.
"Work really hard not to feel bitter toward the experience. The birth mother had to make a decision she felt comfortable with. We don't know why she decided to scam the system. We don't know her whole story. This whole story is about love. You have to be willing to love regardless of what happens."