Cellphone service was unreliable.
Occasionally there would be dead air as the service dropped, and then the sounds returned, the conversation continuing.
Charleen and her husband had been connected with a potential birth mother and father. Darla from Heart to Heart was on the conference call. The five individuals were having a relaxed conversation even though there were breaks in the connection.
"This was our first step talking to this family about this situation," Charleen said. "Just our first step, we thought there would probably be several more before they made a decision. But we really connected, and even though we'd lose service, we had a great conversation. My husband and I looked at each other and said, 'We love them.' These were people we could see ourselves being friends with. So sweet. So caring. But we tempered our expectations. This was just the first step."
Charleen continued to "temper her expectations" for another four days before calling Darla at Heart to Heart Adoptions. "I asked her if she happened to know what the parents were thinking."
"They think you are going to adopt their child," Darla reported. "When they were on the phone with you, they said they wanted you to parent the baby. They selected you."
When the couples met in the hospital two weeks later, they discussed this poorly transmitted phone call and how Charleen spent several days not knowing she was going to be a mother.
"We got to spend two wonderful days in the hospital with our son and his birth family," Charleen said. "This was so precious."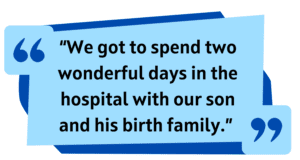 After the waiting and taking the first step with other families, the process of getting their son occurred quickly.
The speed intensified when the little boy was born four weeks early.
"After we learned the birth parents had chosen us, we thought we had a month and a half. Instead, we had two weeks," Charleen said. "We got the phone call that her water had broken, and we immediately started looking for flights."
Although their "handsome," "precious," "sweet," "miracle" baby was born nearly a month early, he only spent two days in the NICU. These two days was a time of bonding for all four parents.
"We went into this wanting an open adoption," Charleen said. "We did the research. Open adoption is good for children. I had a friend who was adopted, and I asked her what is was like. As an adult, she found some biological cousins through a DNA site but has never connected with her birth parents. She loves her adoptive parents. They are her parents. But she wanted to know her biological roots."
After meeting the birth family, Charleen is even more committed to an open adoption.
"We connect on HeartsConnect," Charleen explained. "We send pictures and notes to one another. It's very sweet."
Phone service is not the only thing that is out of your control in adoption.
As a chemical engineer, Charleen likes order and control.
"The adoption process is so out of your control," the new mother said.
"I am a 'get stuff done' person. My husband is a construction management engineer. He was more open to trusting the process. I was the emotional one and took things hard. When different situations came up and didn't work out, I felt it. I would be sitting there thinking, 'What can I do? What can I get done to see this process move forward.' But now I feel like the stars aligned for us."
Charleen was grateful for the help and advice she got from people who had been involved in adoption. She suggested that anyone who wanted advice on agencies and adoption consultants is welcome to contact her.
"We did the multi-agency approach—six total, and felt very lucky to find our baby through Heart to Heart."
If you would like to contact Charleen, please, let us know.