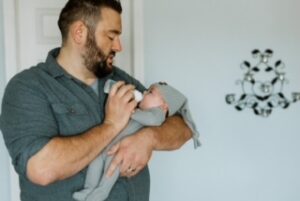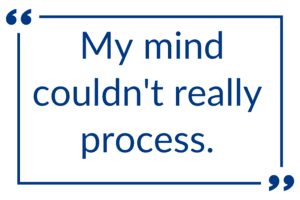 "My mind couldn't really process what was going on," Tyler said. "I was cataloging everything in my head that needed to be done before we could leave."
Tyler owns a propane business and is systematic and orderly in accomplishing a day's tasks. When he realized they were going to drive 20 hours in potentially bad weather, organizing his work and his family became his priority. He was focused on responsibilities.
"I think I was in shock. I ran back to work and got things done. Then we started to pack.  I was just processing what we need to do to make it happen."
Tyler was not focused on the baby. He had dealt with the failed adoption by accepting that maybe adoption was not part of their story. "It might just be the three of us," he said, "And that is fine. We have a good life."
This feeling changed after a long day of driving. Exhausted, the family stopped in a hotel in Alabama and were able to talk with the birthmother.
"Having that conversation with her," Tyler paused. "It is amazing how God gives you the right words to say. What we said came from the heart. Later she told us how some of the things we said resonated with her. And we loved her, even that night, before meeting her in person."
Tyler described holding his first son, Lincoln, and how he'd watched his wife's pregnancy, but until he held the infant, being a father wasn't "real."
"I had the same feeling with Jackson," Tyler explained. "His mother picked him up out of his little crib, and she is like, 'Hey, here is your baby.' She gave him to me. I'm sitting on the couch and holding him. The same feeling as with my first son. The same passion and love. I loved this child, a child up a few days ago we didn't know existed. I was floored. I don't cry, but I did have something in my eyes. And I couldn't stop the tears. It's powerful when you see a baby and instantly love that child. God has given us the ability to do that. I think it was kind of shocking to me how similar it was to Lincoln being born. In that instant, it was, 'Okay, I'm your dad, and you are my son, and I'm going to love you until the day I die.'"
Tyler is also surprised at how that love has extended to the birth mother.
"We spent over four hours talking," Tyler said. "I think about her all the time. When we first started the adoption process, I thought I would find relating to the birth mother or talking to her hard. But it would have been harder not to talk to her. The relationship is amazing. We got to take pictures. I will always cherish them. We both feel we have known each other forever. I thought I would be nervous. It wasn't like that at all."
Read the five-year-old's story. Click here.
Read Mom's story. Click here.