"We get to bring him home forever?"
The three-year-old kept asking. She was delighted with the prospect of bringing a baby brother home "forever."
Eight months earlier, the young girl had gone with her parents and was dancing with excitement as she played big sister to a newborn.
The family had been called to a state where the laws allowed the birth mother to change her mind within five days. The mother did change her mind. Leah and Nate hugged the mother before she left and, even though there was sadness, they genuinely wished her the best.
Samie wasn't nearly as understanding. She wanted a baby. She wanted to be a big sister.
Here was her second chance at having a sibling. She wanted to make sure this little brother was staying "forever."
"Before the birth, we'd been in contact with the birth mother for about a month," Leah explained. "There had been many phone calls."
The women's bond became so close that the birth mother invited Leah into the room when the C-section was performed.
"It's unbelievable how close we got to one another. The feeling is incredible. It's something I can't explain."
The baby and birth mother were discharged on the same day, and the families went out to lunch.
They are still in contact through HeartsConnect, an app that allows communication through videos, messages, and pictures. These messages can later be turned into a book.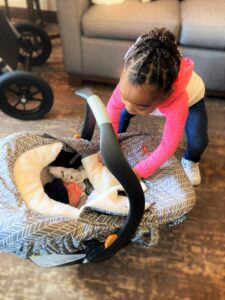 "Samie is just so happy," Leah said. "We were a little worried since she had been an only child for three years, but she is the best helper. She almost waits for him to cry. If I need to get something done, Samie sits and stares and him, and he won't cry when she is there."
Multiple times in the last three years since Samie was born, and certainly many times recently, Leah has been told how blessed her children are to have come into her home.
"I wish people knew that this child isn't the blessed one," Leah said. "We are the blessed ones. They are a blessing to us. Samie is a blessing to us. Our new baby is a blessing to us. We are so full of gratitude."
*names changed