The two women were separated when Margie* got pregnant.
Margie regretted connecting with her old boyfriend, especially when her wife returned, and the women decided they should work things out.
Margie had to tell her wife about the pregnancy. She was sure she would get rejected, so she postponed the conversation as long as possible.
Rather than being rejected, the two women decided to work on their relationship and place the child for adoption.
They were unsure about the adoption process, and when Margie went into labor three weeks early, they hadn't completed the forms and were certain because the baby was born, they no longer qualified to place a child.
Timidly, they pressed forward with the adoption expecting the adoption agency would send a "grumpy old lady in nurses' shoes who was critical of their lifestyle." Instead, they got a representative from Heart to Heart who encouraged them to hold the baby and helped them choose the adoptive family.
Several states away, Karen and her husband were praying for a baby.
"We'd been presented with situations before," Karen said. "They just never felt right. I felt bad because I thought I was being too picky, but I just had the image of this baby in my mind. I kept praying. I kept going to mass. I kept feeling like the time would come. Then we were presented with this case."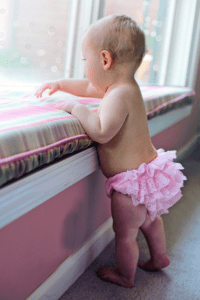 The situation immediately felt right for Karen. That didn't mean there wasn't a whirlwind of activity to travel several hundred miles to pick up a little girl who was already waiting for her parents.
The couple didn't mind the rushed tempo.
"Before we even saw the baby, we felt confident. What a miracle this was. I knew God would not let me down," Karen said. "She was meant to be."
The mother and her wife had left the hospital before the new parents arrived, yet the four will be forever connected.
*names changed.